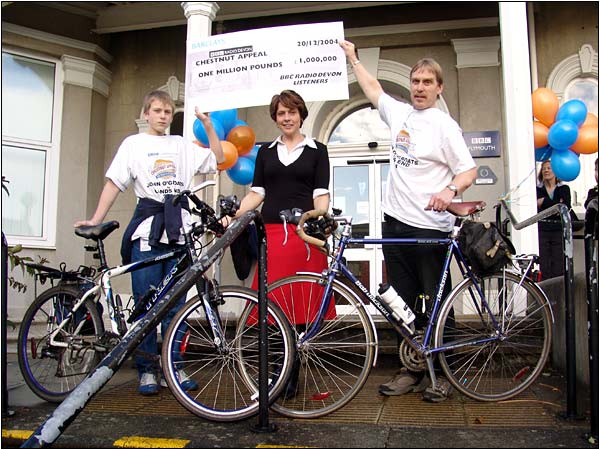 20th Dec 2004 - Chestnut Appeal reaches £1 million. Thanks to all our supporters who helped us raise.
£1500 towards the total: Pictured with Lesley-Anne Hopkins, Chestnut Appeal organiser in Plymouth

We are using the ride to collect sponsorship for two charities, - the "Chestnut Appeal" for Prostate Cancer,
and the worldwide charity for Human rights - Amnesty International.
| | | |
| --- | --- | --- |
| This is a campaign being promoted by BBC Radio Devon, and is aiming for £1 million pounds for a new Prostate Cancer unit at Deriiford in Plymouth. To date the fund is around £710,000 so is well on the way. | | Amnesty International is a Charity which supports human rights all over the world. It is a charity which has no political, economic or religious interests, but seeks to remove some of the massive injustices in todays world. |
THANKS ARE DUE TO THE FOLLOWING COMPANIES FOR SUPPORTING US:
| | |
| --- | --- |
| HADEN facilities management | CONFI-SHRED office recycling |
| ADDICOTT ELECTRICAL | EUREST |
| ROMEC | AARON PRINTERS - Newton Abbot |
| E & JW GLENDINNING Limited | |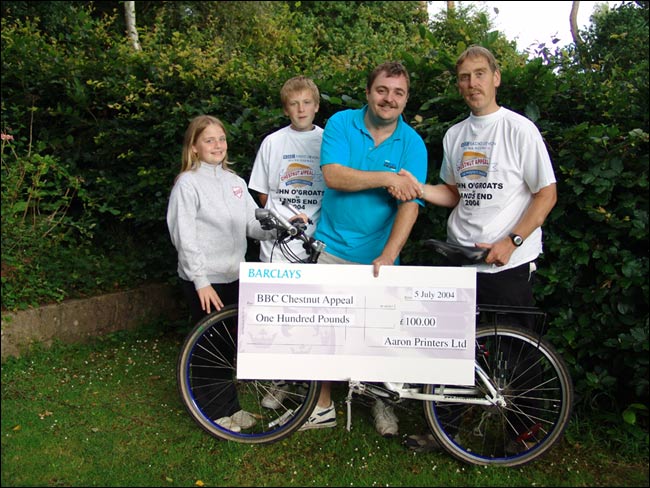 Receiving a cheque for £100 from AARON PRINTERS
Money pledged to date: £2697.50

CHESTNUT APPEAL RECEIVES: £1526.00

AMNESTY INTERNATIONAL GET: £1171.50
For obvious reasons we cannot put a downloadable sponsorship form on this website.
If you would like a form to help us raise money, please contact us on 01626-367977 or 07980-241245.
If you want to send any money direct to us the address is
81, Twickenham Road, Newton Abbot, DEVON . TQ12 4JG
SUPPORT THESE CHARITIES:
| | | | | |
| --- | --- | --- | --- | --- |
| | 2005 - £900 raised for Make-A-Wish | 1987 - £1300 raised for Kidney Research. | | |
| | | | | |